Amazingly only one fish reported from yesterday so far. This was from the lower river at Courtfield where Don Macer Wright reports a 15lb sea liced fish on a big plug armed with a large debarbed treble.
If that turns out to really be the only fish off the 50plus miles of river that has pretty much ideal fishing conditions then we are truly staring down the barrel with what appears to be a major collapse of the spring stock. Late someone say's? Well there is late and then there is never with the arrival of the 2sw May fish not far away too.
Latest. Big fish, possibly 30lb plus lost at Loxsters Pool, Wghitney beat today.
Lower Carrots. 16lb fish to Clyn Cawte on a F?C
Gromaine. 16lbs from the Leaning Willow pool for Nick Gibbon.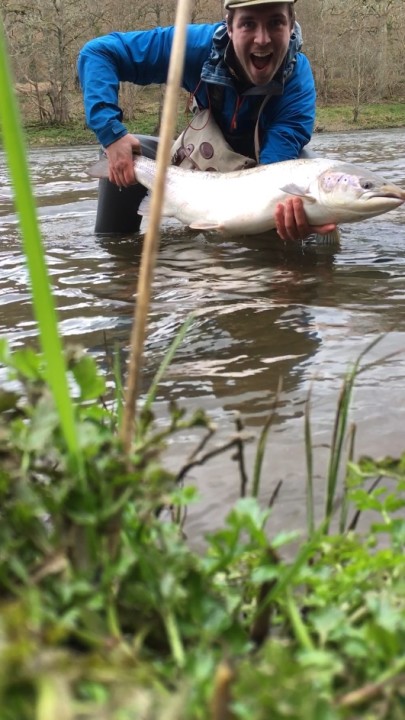 I hope you will all sign the below petition please. A littlefussy to sign in but well worth the effort.
Herefordshire and Powis are submerged in these polluting units . Lost the battle against a local one in Clyro despite most of the community and the Community council voting against it.
River Wye Gillies - Intensive poultry units and river pollution
I am writing to you about a petition which the Brecon and Radnor branch of CPRW have submitted to the Welsh Assembly Petitions Committee and to ask you whether you would be able to help us to achieve our goal of 5000 signatures.
We have taken this action after a number of meetings with Powys County Council and Natural Resources Wales to discuss the environmental impacts of intensive poultry units, chief among these being impacts on water quality from run-off, manure storage, transport and spreading. We have been very disappointed that while Natural Resources Wales are taking steps to limit airborne pollution, Powys Council planners still show no signs of wishing to recognise any of the potential impacts of this type of development, despite expressions of concern from many local environmental bodies, and continue to pass planning applications without any real scrutiny.
If we can achieve 5000 signatures, the petition will be recommended for debate by the Senedd. Our hope is that a Senedd debate of the issues (including the severe cuts to Natural Resources Wales' budget) would be a step towards improvements in planning practice and regulation.
We have gathered a great deal of information about the rapid expansion of the intensive poultry industry in Powys and this can be found on our website:
http://www.brecon-and-radnor-cprw.wales/
I also attach a short flyer we have prepared summarising our principal concerns.
I really hope you can help us by sharing this petition with members and supporters - anyone with an interest in clean rivers. The petition end date is 22nd May so there is not a great deal of time left.
Please do get in touch if there is anything I haven't explained, or any more information you need.
Best wishes
CPRW Brecon & Radnor Committee