A bit more on the so called 'surveys' mentioned by Mr marsh smith regarding survival rates of returned angler caught salmon on the Wye..
The survey he mentioned, as I said before, was nothing to do with a survey of fish survival rates. It was purely a monitoring exercise by the NRA with Bill Purvis in charge to track the passage of fish upriver and the eventual destination. Mr Purvis had previously done a similar exercise on the
Dee apparently. Fish were caught at Lydbrook by several anglers, including George Woodward who donated fish for the monitoring. They were caught by any method including shrimp, worm and prawn. Only a total of about 17/18 fish were caught and those suitable were fitted with a small radio transmitter under anaesthetic having been kept in the river on stringers or large keepnets before being collected by the scientists. Monitoring boxes were fitted at various locations up the river, many in fishing huts and the fish recorded as they passed by.
This was only done for one season before the project was abandoned at considerable cost with a lot of unused transmitters and recorders being surplus to requirement. Why it was abandoned I don't know and can't find anyone who does. There was never, as far as I can establish any final report on the exercise or any final conclusion, except of course the spurious one by Mr Marsh Smith. How many of the tagged fish survived I don't know and in any event a study of just seventeen or eighteen fish is too little a sample to draw any conclusion from.
I have returned plenty over the years both for myself and others and don't need a scientist to speculate for me thanks. By all means stick your fish back as soon as you can and watch it swim off with that warm glow of satisfaction but the eventual outcome is often different from that you hoped to achieve.
-------------------------------------------------------------------------------------------------------------------
Another kick in the teeth. This is how seriously they WAG take our sport and rivers .
www.youtube.com/watch?v=zmABRSTX1Eo&feature=youtu.be
--------------------------------------------------------------------------------------------------------------------
Yet another kick in the teeth - Mott wins again- doesn't he always.
A traditional 'putcher' fisherman who has been locked in a five-year battle with the Environment Agency had his human rights breached by 'excessive' restrictions on the number of salmon he is allowed to catch and should be awarded compensation; the Supreme Court ruled this morning.
In
Mott v Environment Agency
the court said the agency did not give consideration to the impact on Nigel Mott's livelihood when it slashed his quota by 95% in 2012.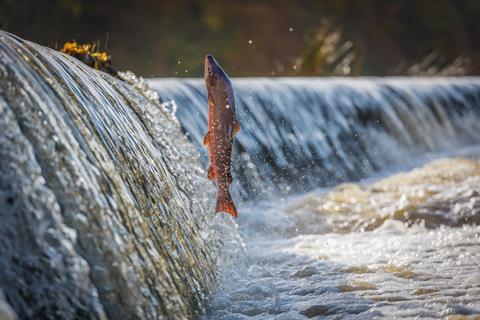 It upheld a ruling by the Court of Appeal that, without adequate compensation, the agency's restrictions breached Mott's rights to peaceful enjoyment of possessions under Protocol 1 Article 1 of the European Convention on Human Rights.
Explaining the court's majority judgment, Lord Carnwath said the decision 'cannot give rise to a general expectation of compensation' but that in this 'exceptional case' the Court of Appeal was entitled to give the decision it did.
Mott was one of the last fisherman to fish under the 'putcher' method of catching salmon in basket traps. He said his 600 catches every year on the Severn Estuary could earn him up to £60,000.
But in 2012 the agency capped his permitted catch to just 30 per year. It later slashed this figure again to 24 and 23. The fisherman claimed at least 95% of his business had been eliminated by the restrictions.
Justifying its restrictions, the agency said there was a threat of salmon stocks in the adjoining River Wye, a special area of conservation protected by the Habitats Directive.
However, Mott claimed his traps, were placed far upstream from the mouth of the Wye. He challenged the restrictions at the High Court claiming they were based on flawed evidence and amounted to a breach of his rights Protocol 1 Article 1.
The High Court accepted both Mott's claims and the agency appealed. In a judgment handed down last year, the Court of Appeal said that, although there was a rational basis for imposing the restrictions, the agency had not considered the devastating impact on Mott and his livelihood.
The agency lodged another appeal prompting today's ruling.
The Supreme Court added: 'The agency was correct to emphasise the special importance of environmental protection, but this does not detract from the need to draw a fair balance, nor from the potential relevance of compensation. The agency gave no consideration to the particular impact on Mr Mott's livelihood, which was severe.'
The Gazette understands the agency will now work with Mott to agree adequate compensation.
An agency spokesperson said: 'Salmon stocks are at an all-time low and it is the agency's duty to protect them where they are at risk. We are working hard to restore salmon to healthy levels and will soon be proposing new measures to protect them. But it is only through working with others that we will preserve this iconic species for future generations.
'We welcome the court's support for the agency's role to impose catch limits on salmon, and the recognition that Mott's case is exceptional.'
Stephen Hockman QC and Mark Beard, instructed by West of England firm Harrison Clark Rickerbys appeared for Mott; James Maurici QC and Gwion Lewis, instructed by Environment Agency Legal Services, for the Environment Agency.